Move Well Far Infrared Back Support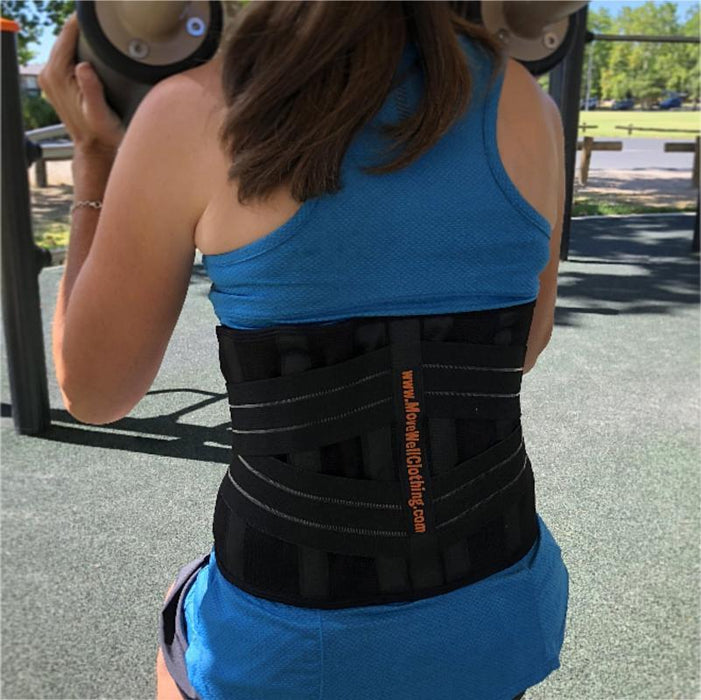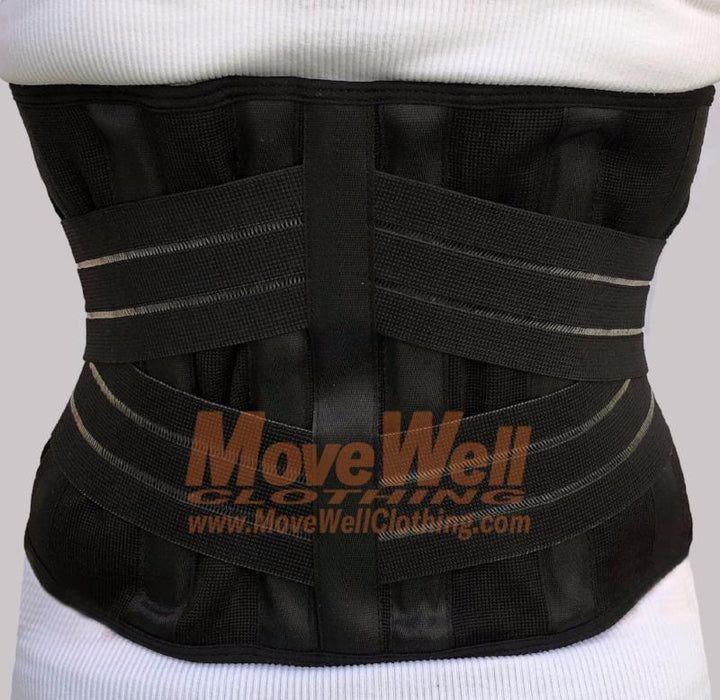 A full day behind the wheel, a long night on the dance floor, too much time at the computer or perhaps an extended movie marathon from the safety of your couch.  Any of these can put strain on your back and, if you don't take care of it, you'll end up "flat on your back" and of no use to anyone. You wouldn't want that now would you?
Our Move Well Far Infrared Back Support works to reduce pain, stiffness and inflammation by reflecting your body's far infrared rays back into the muscles and tissue.  The back supports feature flexible vertically-positioned slats which help to keep your lower back in a safe position. They also feature an internal pocket to allow you to add heat packs or cold packs as you desire (these are not included).
Move Well Back Supports are great for:
improving circulation
reducing fatigue
reducing inflammation
relieving aches and pains, particularly lower back pain
correcting poor posture
reinforcing metabolism
aiding weight loss- the far infrared has been shown to excite water molecules at a cellular level which aids in digestion and toxin removal
Colours: Available in black only. 
Sizing Guidelines: Sizes available are Small, Medium and Large. For appropriate sizing, take a measurement of the circumference of your waist, in line with your belly button:
76cm (30") and under: Small
77cm (30.5") to 97cm (38"): Medium
98cm (38.5") to 122cm (48"): Large
Ready to Order? Select your size preference at the top of this product page, underneath the product description. A quick checkout option (for a single item only) is displayed with the "Buy It Now" or "Buy with PayPal" button. If you would like to order multiple items (of the same or different products) or choose a different payment method please use the "Add To Cart" button where you will be able to add other products and/or select from all available payment options.
We ship orders daily with Australia Post. A shipping charge is added to orders during the checkout process based on order weight. Shipping for domestic orders (within Australia) will normally range from $4 to $7. Shipping for international orders will be slightly higher.
If you have any questions or would rather place your order over the phone, please contact our office at 0483 861 669 Monday to Friday 9am-5pm (Sydney timezone).